Welcome to Tosashimizu!
Tosashimizu and Ashizuri's ocean views, dramatic coastlines and tiny fishing ports are best explored by bicycle and the added boost provided by rental E-bikes puts them within reach of even beginner cyclists. We hope this guide will help you enjoy this beautiful and fascinating part of Kochi Prefecture to the full.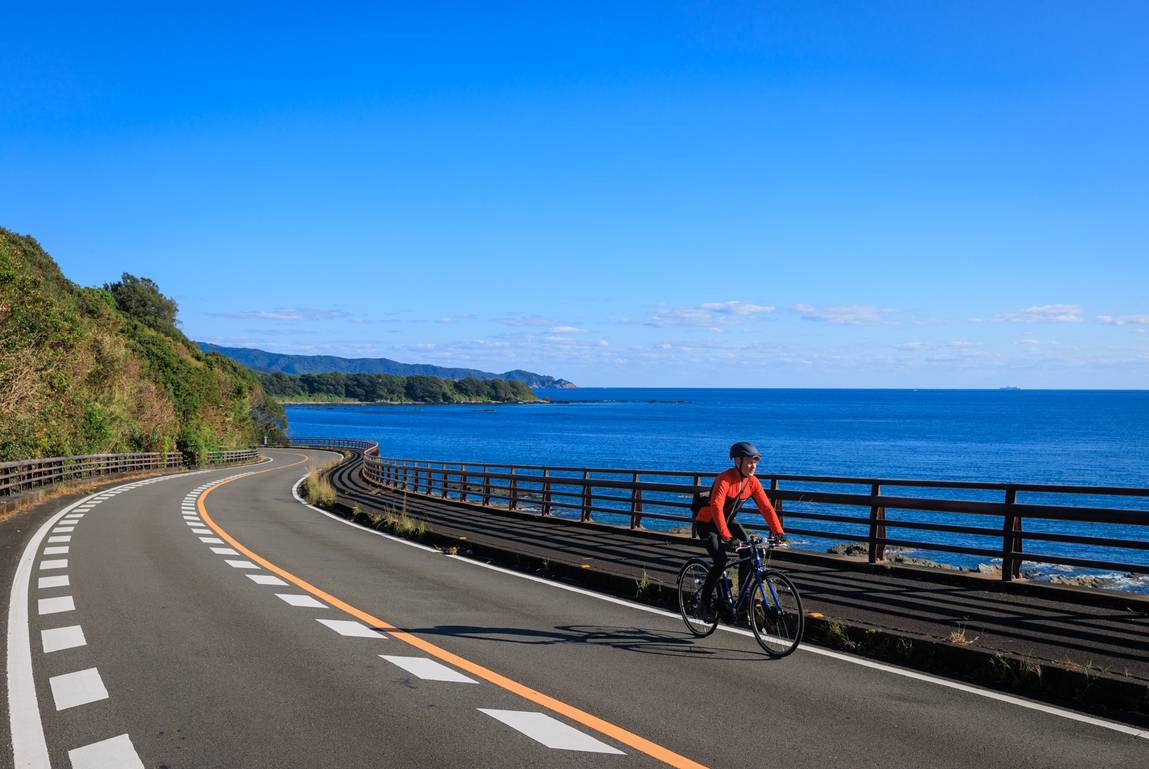 Slide 1
Is there anything more satisfying than completing a loop? Let the E-bike take the strain and enjoy 30 km of ocean views.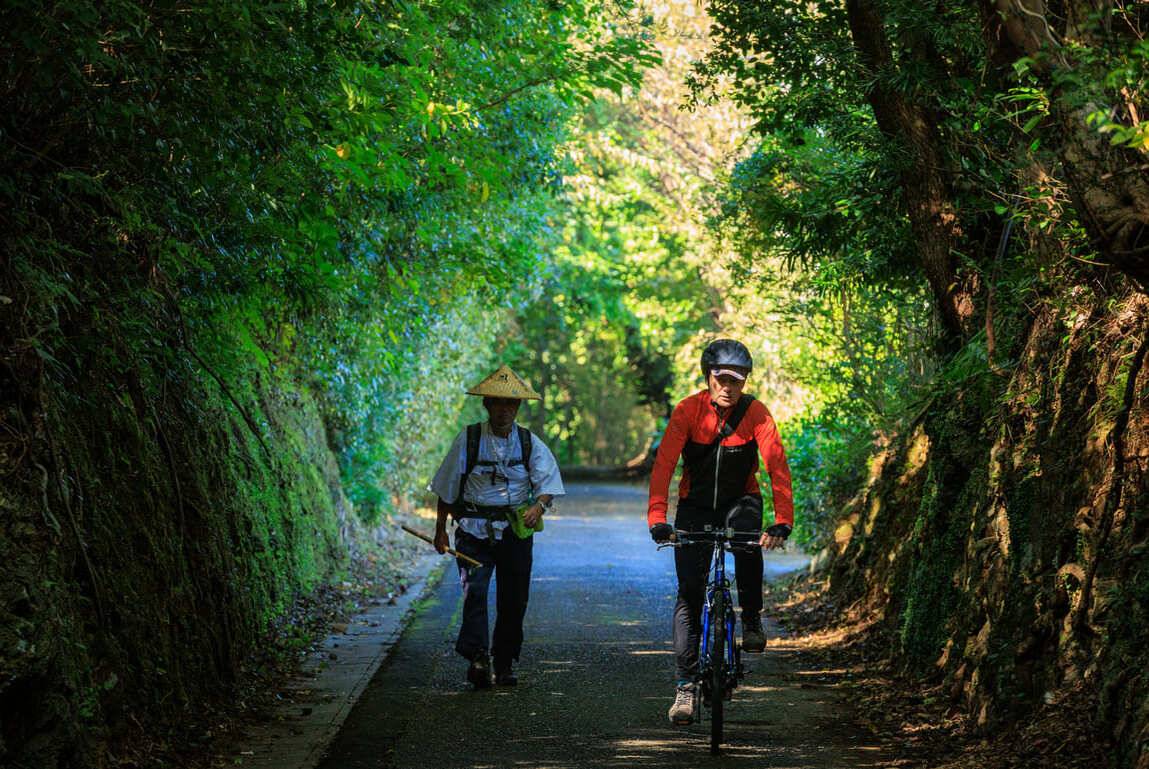 Slide 2
The 8km detour from the Ashizuri Loop Course takes you along the magical route walked by pilgrims on Shikoku's 88 Temple Pilgrimage.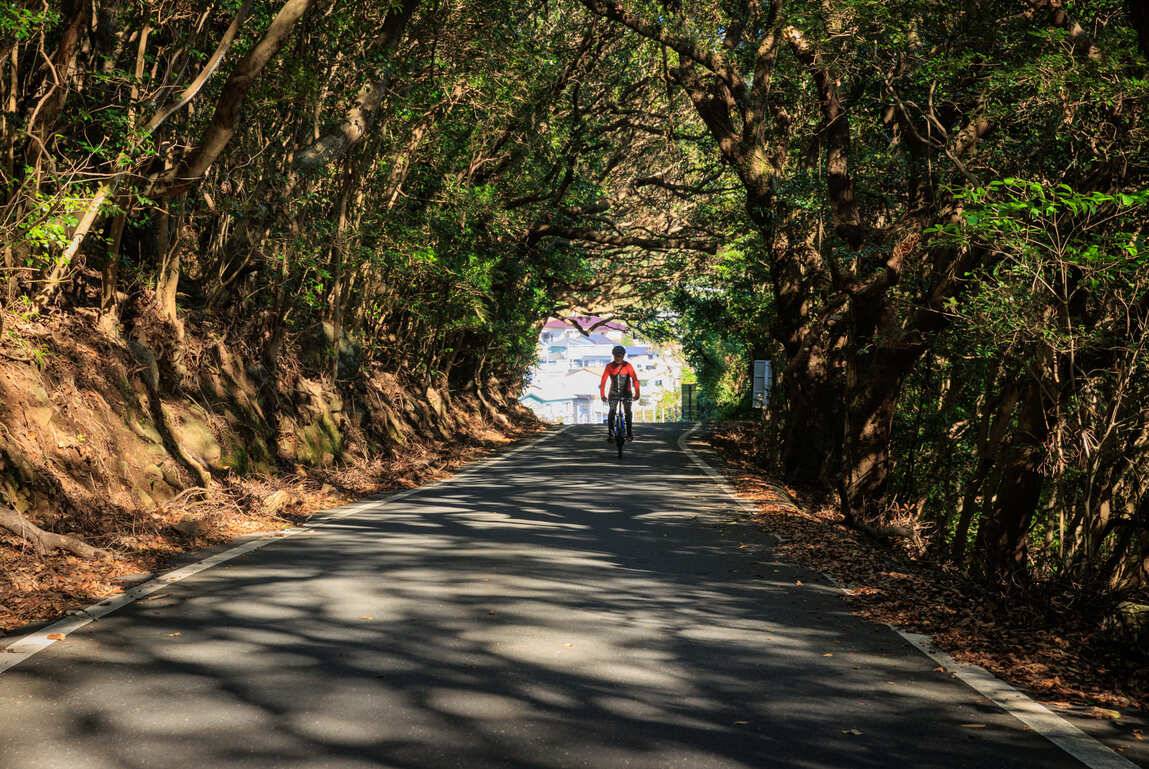 Slide 3
Cape Ashizuri Pacific Coast Course
In just 8 km this ride along the beautiful southern edge of the Ashizuri Peninsular takes in many of the area's highlights.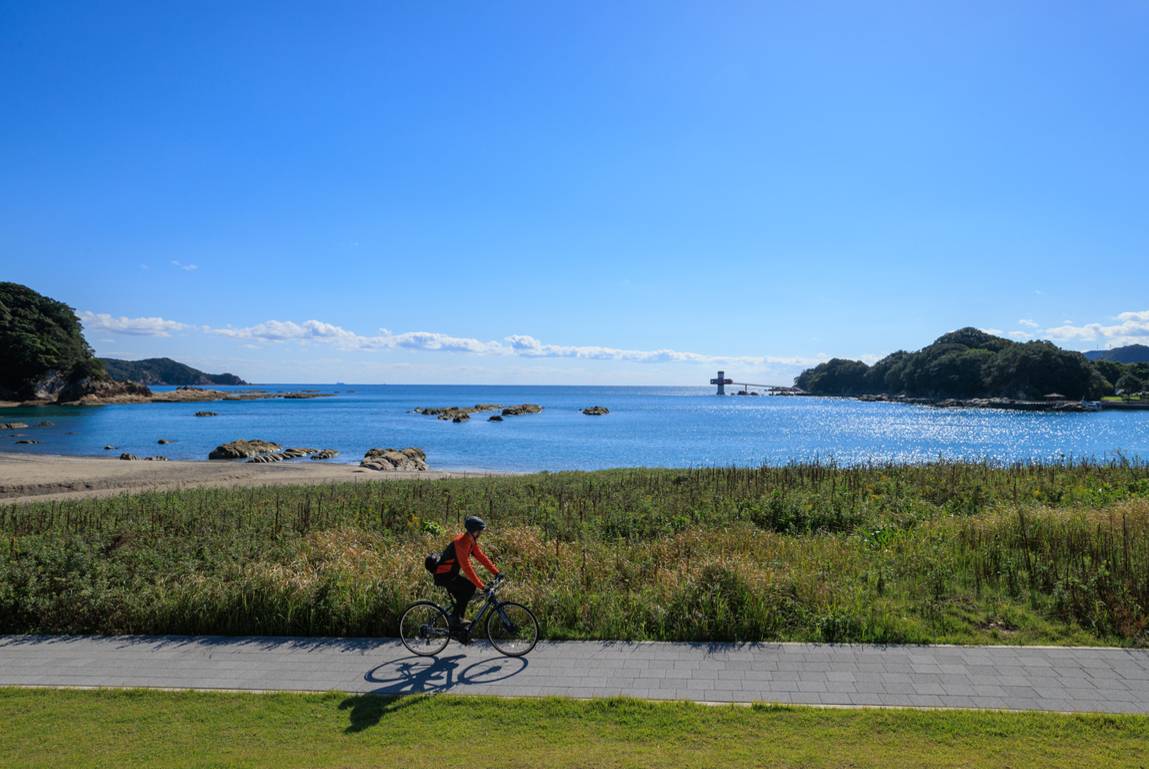 Slide 4
Set out early to make time to explore this fascinating and picturesque marine and geopark by way of the Pacific Coast Course.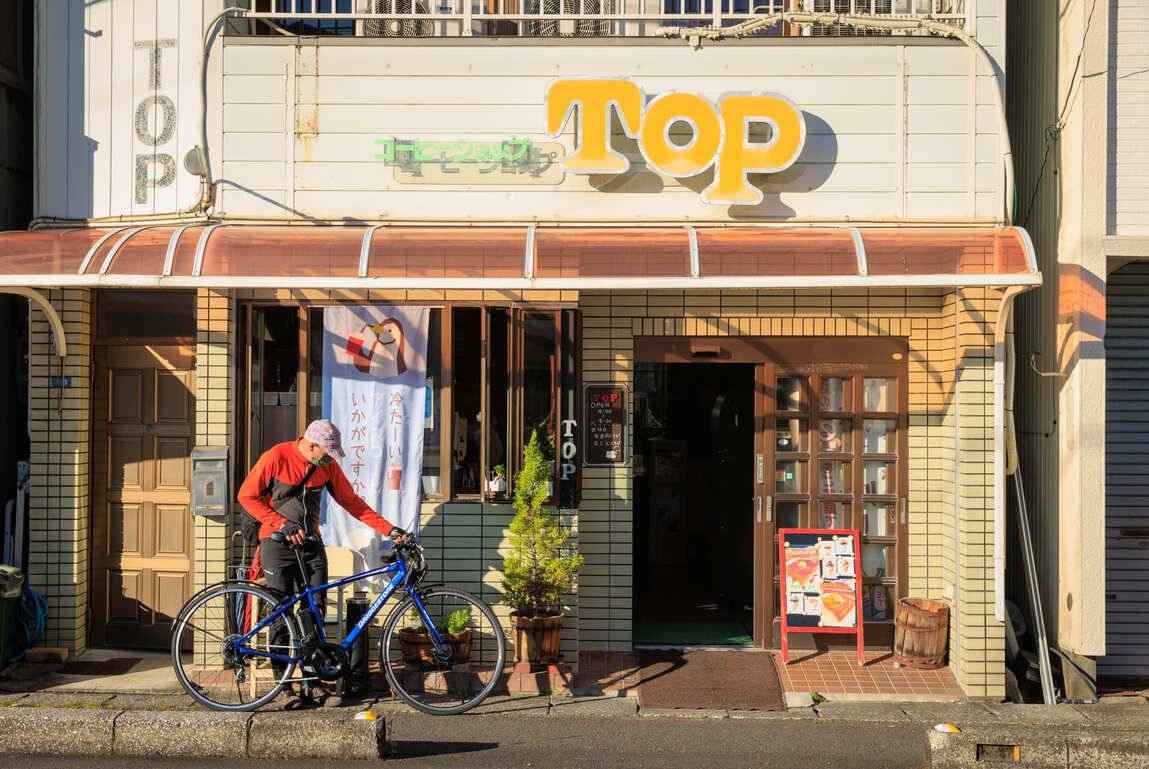 Slide 4
Take advantage of the cafes, shops and restaurants here before doubling back, continuing around the Ashizuri Loop or heading to Tatsukushi.
Tosashimizu & Ashizuri by E-bike
Map Download
Ashizuri Loop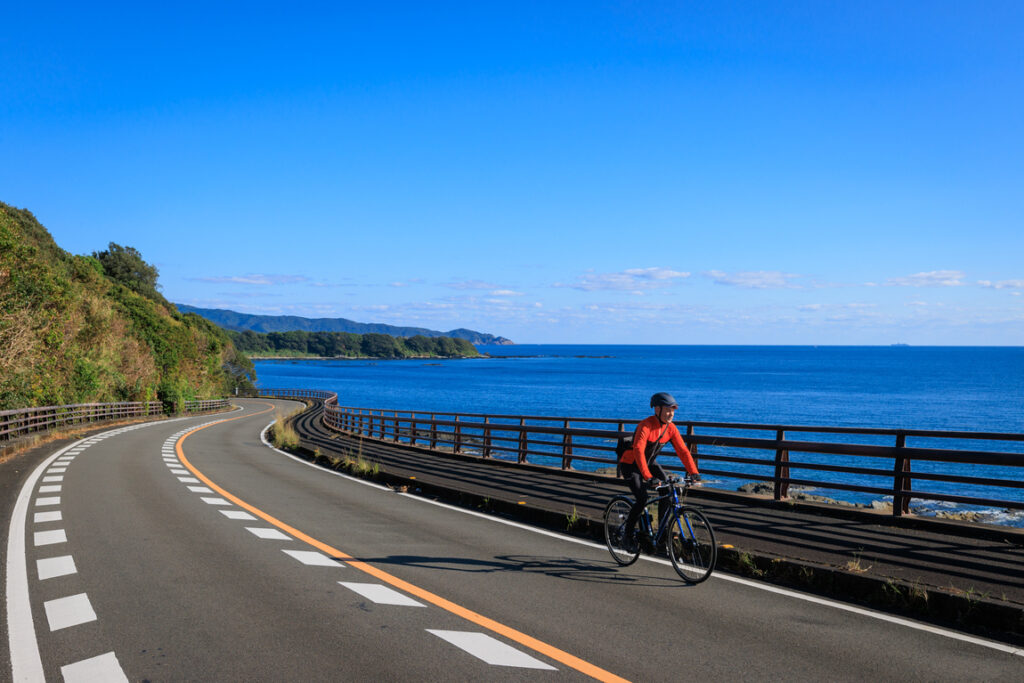 This approximately 30km loop takes you around the whole of the Ashizuri Peninsular with amazing Pacific Ocean views all the way. Tackle it counter-clockwise to be closer to the sea views along the way, or clockwise if you aim to catch one of the area's famous sunsets.
Oki Beach Pilgrim Route
The Shikoku Pilgrimage route between the Iburi turn off and Oki Beach takes you through tunnels of trees along a twisting mountain road with some beautiful views of Oki Beach through the forest canopy. A route made for E-bikes!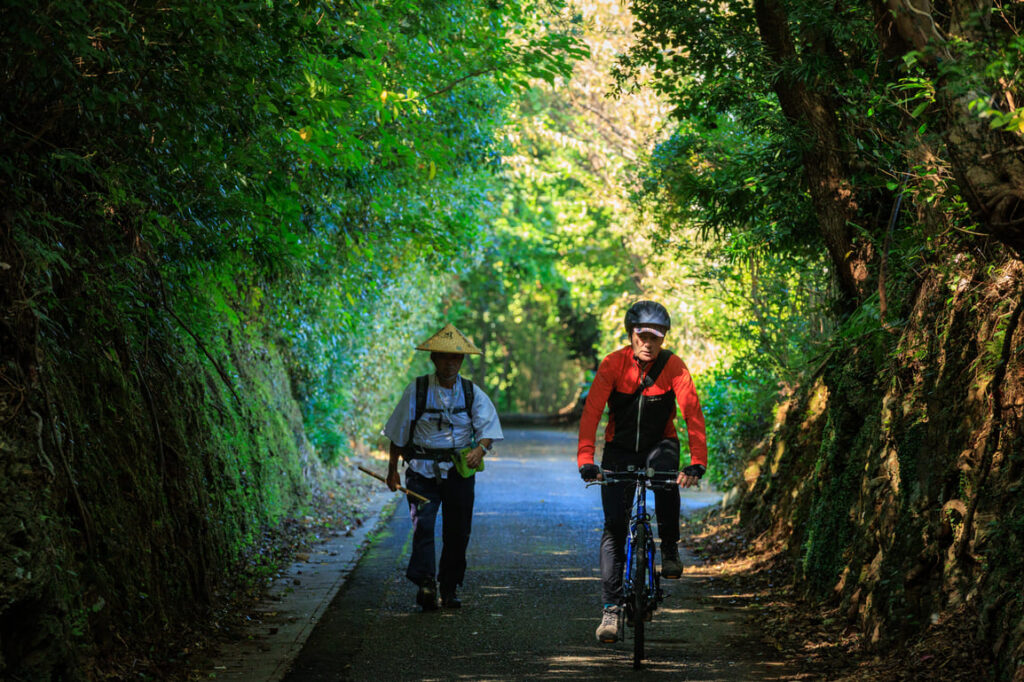 Ashizuri Loop / Oki Beach Pilgrim Route
Cape Ashizuri Pacific Coast Ride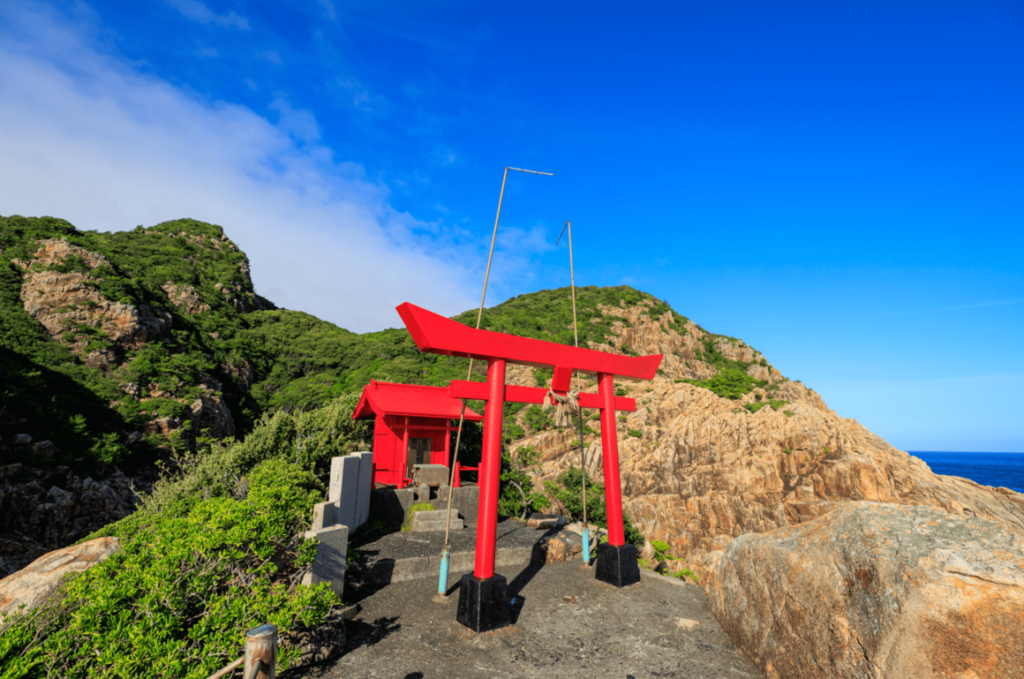 Although only 10km in length, there is so much to see along this route. If you only have a few hours to explore Ashizuri, this is the one!

You should still allow for a good amount of time, however, as you will be spending as long off the bike taking photos as you will on it.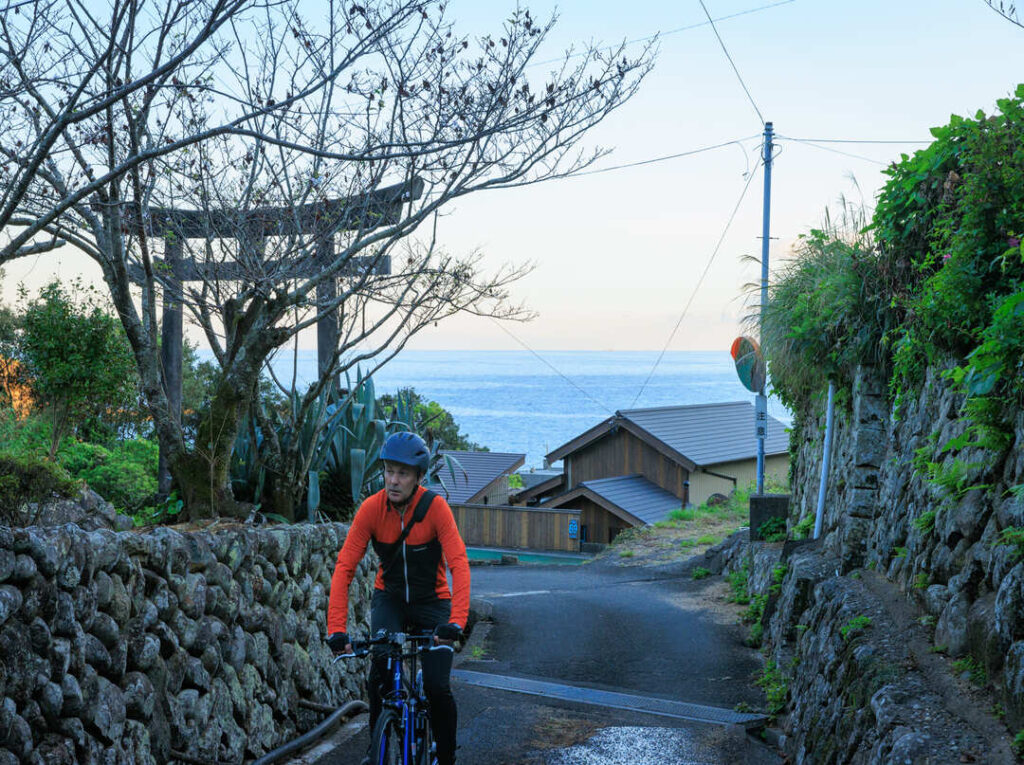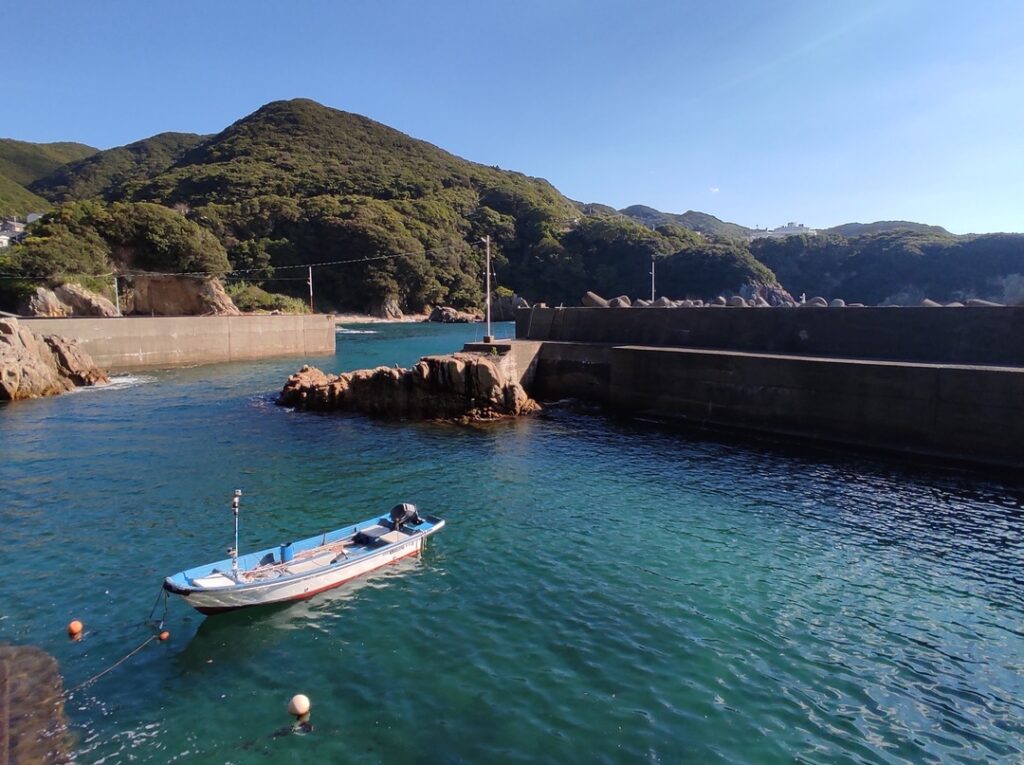 Cape Ashizuri Pacific Coast Ride
Tatsukushi Area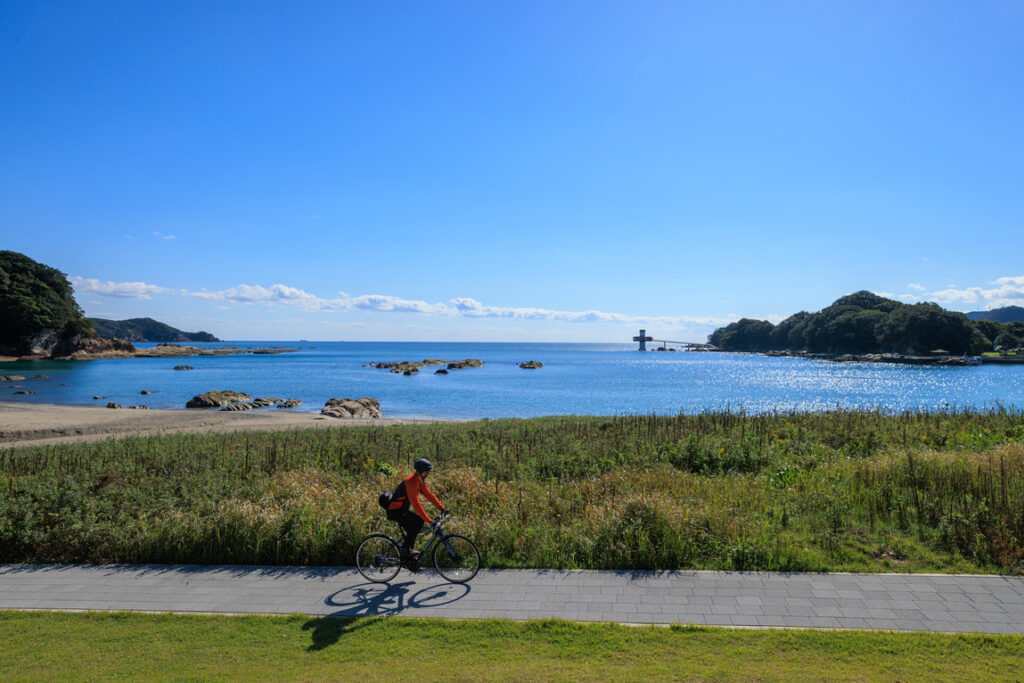 Tatsukushi is a geological wonderland above the sea and marine paradise below. Walking paths give you easy access to rock features formed over millions of years and pretty Sakurahama Beach where sea turtles come to lay their eggs in summer. Be sure to give yourself time to explore this fascinating area before heading back to your hotel.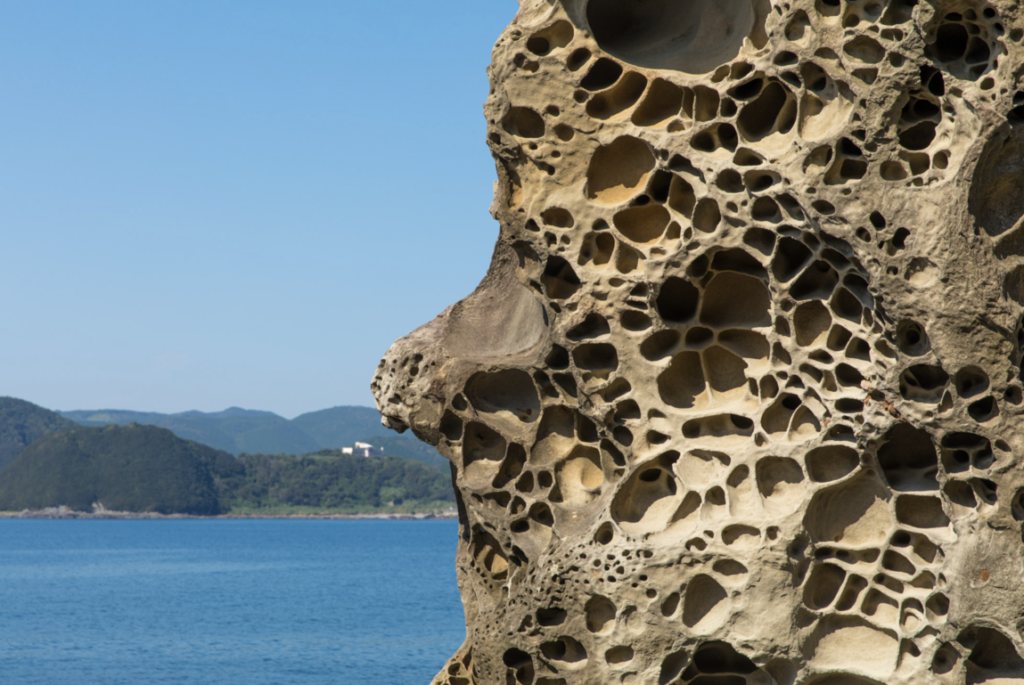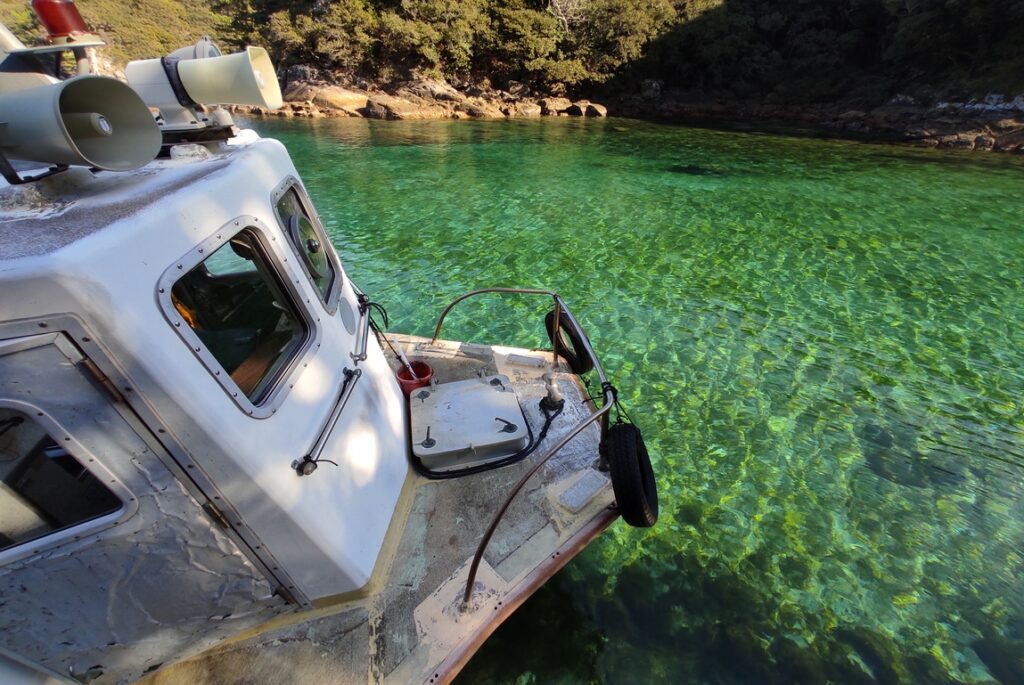 Tatsukushi Area Google Map
Tosashimizu City Center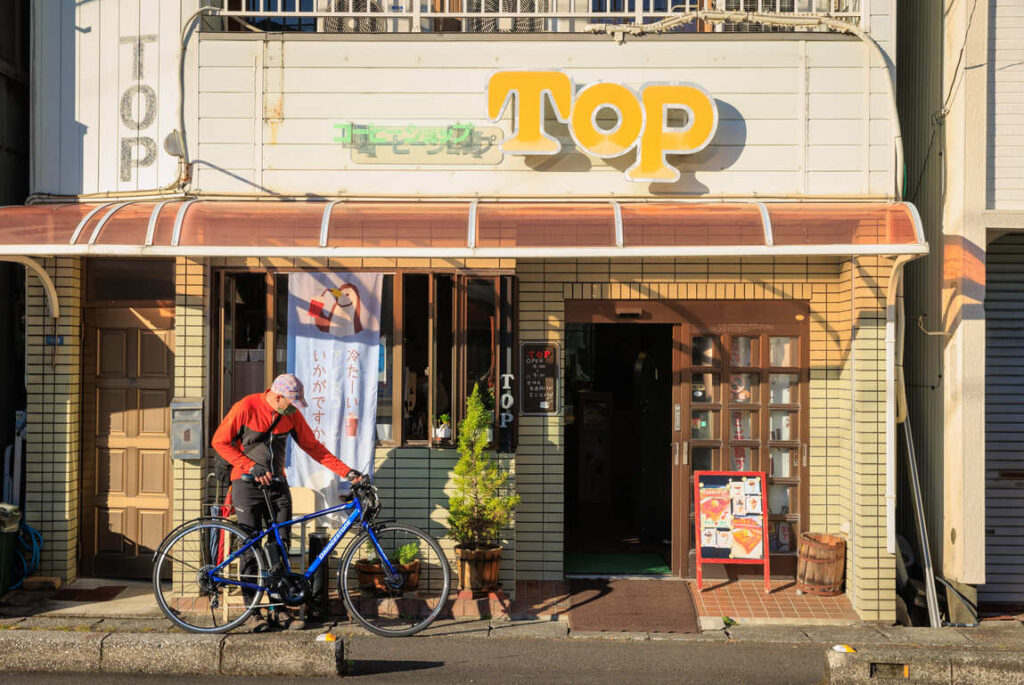 Tosashimizu has a compact, easy-to-navigate city center and is a good place to stop for a coffee-break, stock up on snacks or grab some local food. Bicycle Shop Mori, the bike store designated to keep Tosashimizu's E-bikes in good working order is also located here, so if you run into any technical issues, you know where to go!
Perayaki is a simple crepe-like dish, filled with fried fish cake pieces, green onions, dried bonito flakes and topped with a beaten egg and sauce. It's a great way to experience some local culture. Today, there are several perayaki shops in Tosashimizu, but it all started with Nishimura back in 1957. Push through the hanging curtains and it's like the interior has changed little since the current owner's grandmother first set up shop.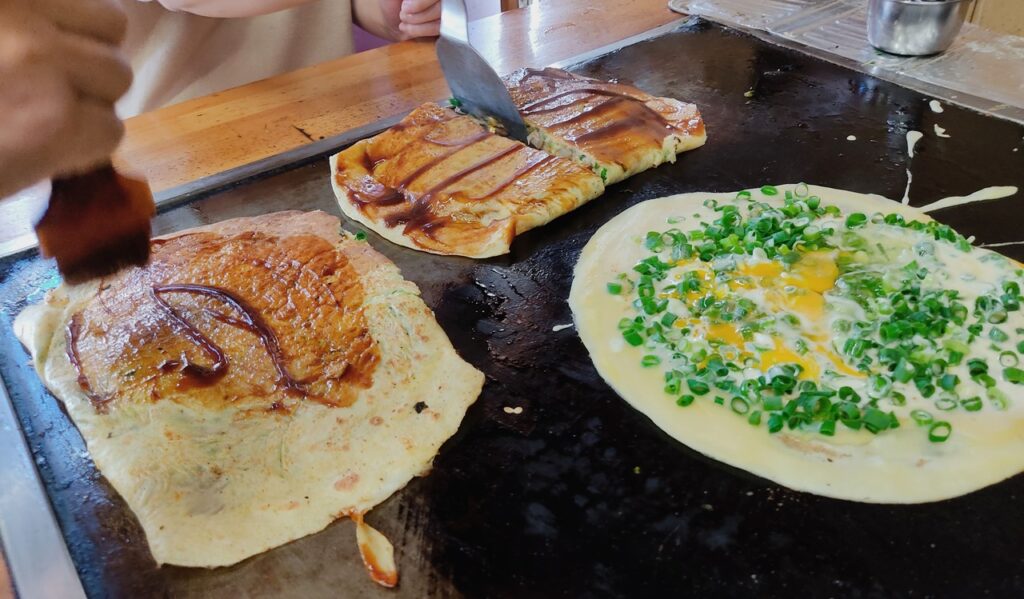 Tosashimizu City Center Google Map
Tosashimizu & Ashizuri by E-bike
Map Download
Contact
■Inquiries
Tosashimizu Tourism Association
303 Yoro,Tosashimizu City,
Kochi Prefecture 787-0337
TEL: +81 -880-82-3155
https://www.shimizu-kankou.com/
Tosashimizu Tourism and Commerce Department
11-2 Tenjin-cho, Tosashimizu City,
Kochi Prefecture 787-0305
TEL: +81 -880-82-1212